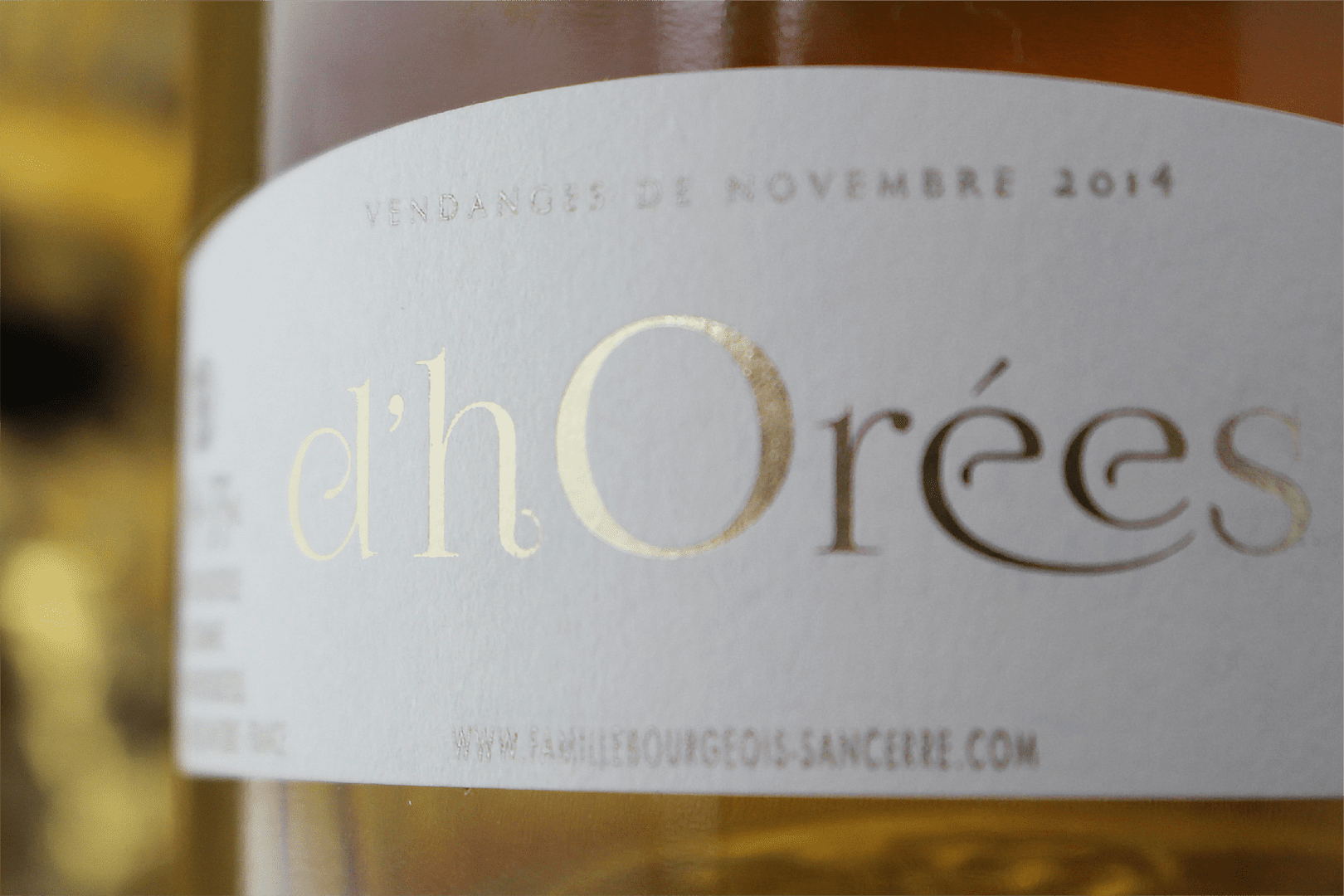 It is on the slopes of Chavignol and Amigny, at the bottom of Sancerre, that the Sauvignon Blanc vines at the origin of "d'hOrées", the latest creation of Domaine Henri Bourgeois, create wonders… When the misty autumns of the Loire allow it, the Famille Bourgeois listens to nature to push a little further the maturation and the concentration of its grapes on some plots in the heart of the Domaine. In an original bottle, waxed and dressed with an ode to the Loire, we discover a generous and tasteful wine that will illuminate the most beautiful gourmet tables.
  
A Sauvignon nectar
The late harvest of the Famille Bourgeois comes from a plot of Sauvignon Blanc specifically chosen for its exceptional terroir of Kimmeridgian marls, which gives it a unique potential when harvested at over-ripeness. To give birth to the "d'hOrées" cuvée, it is indeed nature that sets to work by offering adequate climatic conditions for the right concentration of the grapes. The harvest, directly sorted at the picking, was carried out on three plots in three days in mid-November 2014 with grapes harvested at different stages of maturity.
After a gentle pressing, the sugar-concentrated musts fermented at low temperatures in oak barrels from the Tronçais forest until early winter. The wine then rests in these same barrels for 15 months before being bottled. With its old gold color, the "d'hOrées" vintage of Domaine Henri Bourgeois distils enveloping aromas of exotic and candied fruits. Subtle notes of gingerbread and honey compliment this rich and balanced wine, which offers an exceptionally fresh and persistent finish.
A tribute to nature
O wild and generous Nature,
O Loire, majestic and pure,
distill your shimmering dews,
caress our lands with your misty hues,
receive this harvest we bestow on,
accept our precious, our noble sauvignon,
imbue your nectar, your sweet treasure,
may it flow in our glasses, forevermore.
The cuvée "d'hOrées" is a winegrower's tribute to the passing of time, to the necessary complicity of the craftsman, nature and an exceptional terroir to produce an intense and subtle cuvée, born of the Loire Valley mists that envelop the hillsides of Sancerre in the fall.
The name " d'hOrées " refers to the Horées, ancient festivals given in Greece in gratitude to the generosity of the four Hours, daughters of the sun God Helios personifying the four seasons.
Pairing
If it is very pleasant alone or with a mature cheese, this vintage will also enhance a gastronomic cuisine, refined and racy as a pan-fried foie gras and its rhubarb confit or scallops with orange.
Our vintage "d'hOrées" 2014 is available on our online store (delivery in France only).